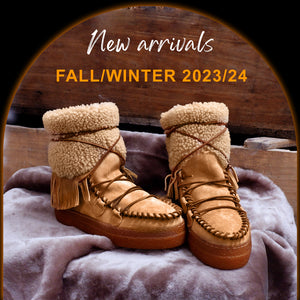 YMIZ ZIP - COGNAC
Designed for the free-spirited souls who seek comfort and style in every step, these boots are your ticket to a dreamy winter adventure.
Shop
STRA1 - BLACK TEXTURE
Water resistant women's medium boots, featuring elegant leather straps, excellent for Fall - Winter season.
Shop
Karma of Charme Collections
In Travelling For Wonder
It's the encounter with the Unexpected, with the Surprising...
"IN" underlines the present time, the being now, FOR the future to be realized through a
Thought, through a Desire, through the Devotion, which will lead us to a free path of
awareness of one's Being.
Karma of Charme has always had Nature in its DNA: Nature as the Planet, as a whole
Universe, Nature as part of us. By becoming aware of it, we can give ourselves the
opportunity to understand its intensity. Intensity: like a vertical line that forges us just as
"hands", a true instrument of creation and knowledge. A vertical line that is in our present, far
superior to the horizontal line of an entire existence. And it is precisely for this reason that
we would like to state:
"No place is really too far to travel."